250th RAFFLE WINNERS!!!!
1st Place Winner: Angela Loring from Twin Mountain, NH (Canoe)
2nd Place Winner: Mylo Ritt from Georgetown, MA (two night stay at the Omni Mt. Washington Hotel)
3rd Place Winner: Deb Glidden from Alexandria, NH (Omni Mt. Washington Golf package)
_____________________________________________________________________________________________________________________________
The Town of Carroll 250th Celebration Committee is planning the town's 250th Anniversary event for 2022.  We are asking all to come together and celebrate.  We will learn of our historical past and with great excitement look forward to the future.

TWIN MOUNTAIN, NH (June 8, 2022) – The Town of Carroll 250th Anniversary Committee in conjunction with the Twin Mountain-Bretton Woods Chamber of Commerce has announced plans to celebrate the 250th Anniversary of its grant charter in 1772.
Located at the crossroads of Routes 3 & 302 in the White Mountains, the town was first granted by charter on February 8, 1772, as "Bretton Woods" and later incorporated as the "Town of Carroll" including Twin Mountain, Bretton Woods, Fabyans and Crawford on June 22, 1832.  From the early settlers and visiting poets, artist and adventurers, to the creation of the world's first mountain climbing cog railway, the state's largest ski area and one of New Hampshire's last remaining grand hotels, the area's rich history and tradition of White Mountain hospitality lives on today.
The celebration kicks off Friday, July 8th with the dedication of the New Hampshire Historical Highway Marker for Reverend Henry Ward Beecher at 1:00pm.  The marker will be located at the intersection of Route 3 North and School Street near the Information Booth, or just across the road on Fieldstone Lane (exact location is pending state officials' decision).  A reception, sponsored by the Omni Mount Washington Resort, will follow at the Town Hall Community Room including a display presented by the Twin Mountain-Bretton Woods Historical Society.
The celebration continues Saturday, July 9th with a Fishing Derby at the Town Recreation Center from 7:30-10:00am for all children aged 15 under, sponsored by the Town of Carroll, Ammonoosuc Chapter Trout Unlimited, and NH Fish & Game Dept, hosted by Vern and Bobbie Amirault.  A member of the NH Fish and Game Department may also be on hand to help children and answer questions.  The 250th Anniversary celebration will continue at the Historical Society's display at the Town Hall Community Room, along with a BBQ at the Fire Station beginning at 11:00am and sponsored by the Twin Mountain Snowmobile Club. The day's events will conclude with music & dancing with "Still Kicking", a local band playing classic rock hits, at the Information Booth Gazebo at 4:30pm followed by fireworks at dusk, sponsored by Bretton Woods Vacations and the Twin Mountain Recreation Department.
Local restaurant and chamber member rek'lis brewing company of nearby Bethlehem will also be on-site with their popular food and beer truck. To commemorate the 250th Anniversary, rek'lis will premiere a special lager, "English Jack", named for the hermit who lived summers at "The Gateway" near the top of Crawford Notch from the late 1800s through 1912, and entertained residents and hotel guests with his paintings, stories, homemade beer, and antics.
Finishing out the weekend, Beech Hill Auto will host a "Classic Car Cruise" at the Information Booth on Sunday, July 10th from 10:00am to 2:00pm.
On Labor Day Weekend, the celebration continues with a pancake breakfast on Saturday, September 3rd from 7:30-10:00am at the Twin Mountain Fire Station, followed by the revival of the Mile Long Yard Sale with craft and specialty vendors surrounding the town center and Information Booth. The Yard Sale will take place on Saturday, September 3rd from 9:00am-4:00pm and Sunday September 4th from 9:00am-3:00pm.  For information on being a vendor, email sean@vintagemarketinthemountains.com.
On Sunday, September 4th, the 250th Anniversary finale will feature "Still Kicking" from 4:30-8:30pm at the Information Booth Gazebo.  Bring your dancing shoes or lawn chairs to enjoy the music while you dine on snacks or dinner from participating food trucks (also rek'lis beer truck), or visit YaYa's Market & Deli, Celli's Pizzeria or Munroe's Family Restaurant on the way for great specials you can enjoy picnic-style.
One of the evening's highlights will be a drawing for a 13.5-foot handcrafted canoe constructed using locally sourced reclaimed wood; a 2-night stay with breakfast and a choice of golf or skiing at the Omni Mount Washington Resort; or a round of golf for four at the Omni Mount Washington Resort.  Tickets will be available at all events throughout the summer, plus at the town office and YaYa's Market and Deli.  Proceeds will go towards supporting the events as well as publishing a history book of the town. Other fundraising efforts include the sale of commemorative license plates, t-shirts, ornaments and decals.
Event details will be continually updated on www.twinmountain.org as more details become available.
Media Contact: Carol Carlson Cunningham, twinbwchamberinfo@gmail.com.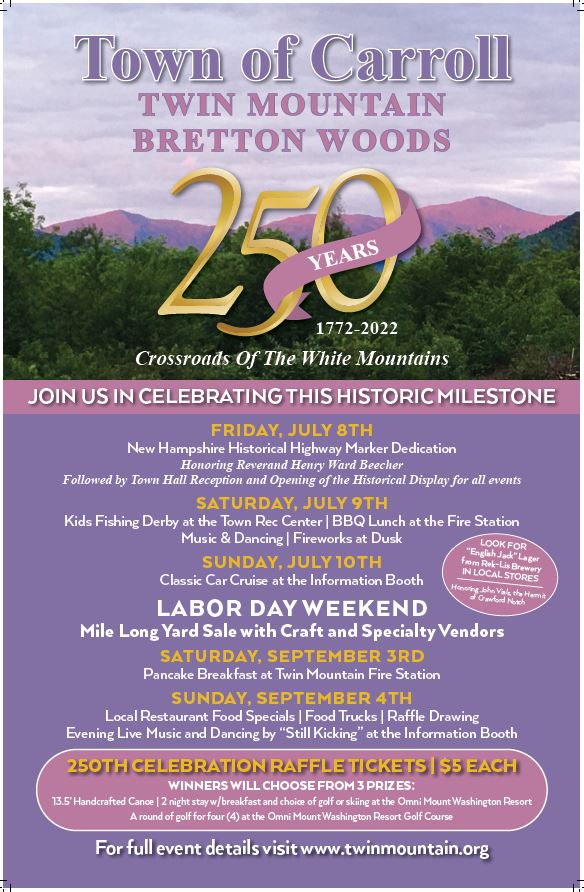 ____________________________________________________________
Currently we have DECALS, SHIRTS, PLATES, and the 250th ORNAMENT available for purchase at the Town Hall through the Town Clerk's office:
Decals (3 to choose from) – two are the 250th Celebration logos and one of the former School/Town offices ($3.00 each)

T-Shirts ($20.00 each)
Long-Sleeve Shirts  ($25.00 each)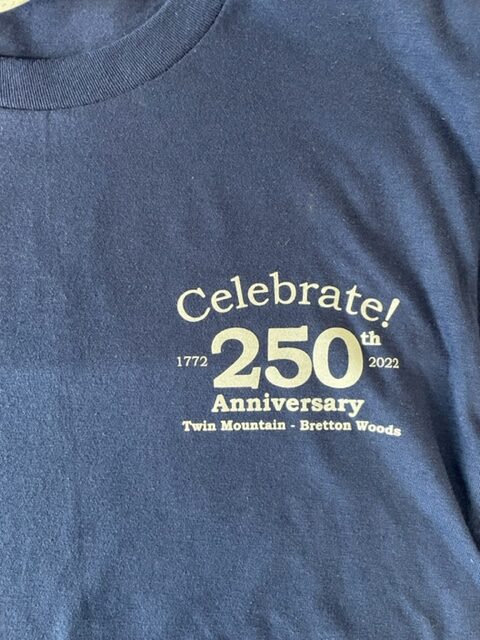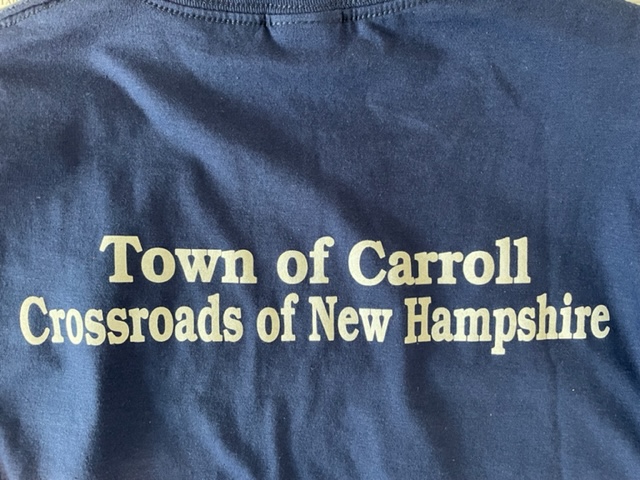 (FRONT)                             (BACK)
Commemorative Plates ($20.00 each)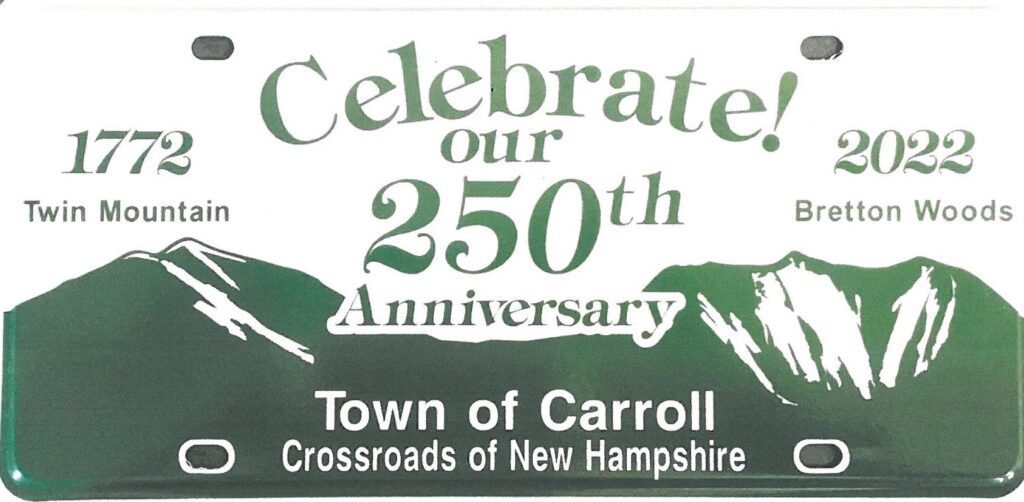 250th Ornament ($20.00 each)

Please contact Carroll250th@gmail.com or stop by the Town Hall to purchase any of the items.
We look forward to you being part of this Celebration!
Thank you,
The 250th Celebration Committee