The Appraisal Company of Commerford Nieder Perkins, LLC has recently completed a valuation update of all properties within the Town of Carroll for the 2022 tax year.
IT IS HIGHLY SUGGESTED THAT IF YOU HAVE QUESTIONS ON THE PROCESS YOU SHOULD SCHEDULE  AN APPOINTMENT.  THERE IS NO COST FOR AN APPOINTMENT!
The assessment list for all new property values is available below, please click on the pink boxes below sorted by either Owner or Map & Lot: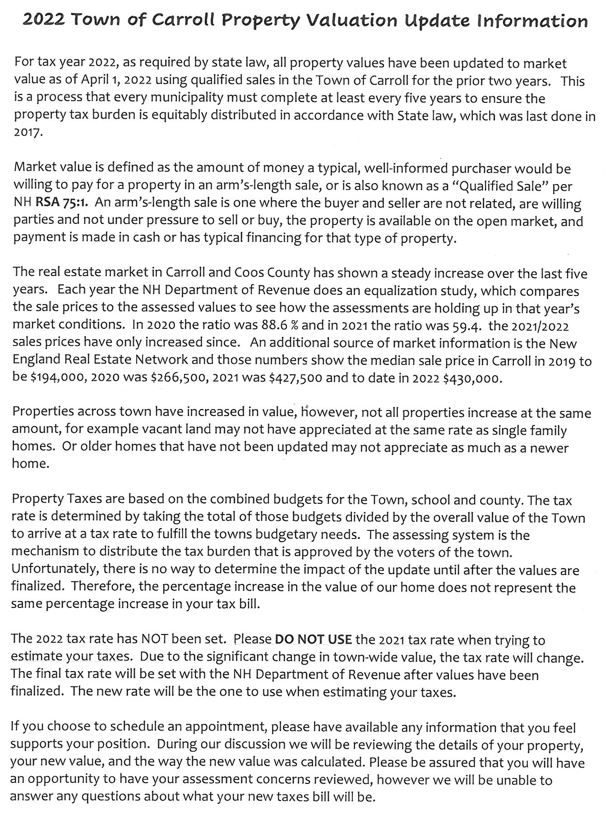 If you would like to discuss your assessment with an assessor (Commerford Nieder Perkins), the dates, times and contact information is below:
CALLS TO SCHEDULE AN APPOINTMENT WILL BE TAKEN ON:
WEDNESDAY, OCT. 19TH THRU FRIDAY, OCT. 21ST
TELEPHONE NUMBER: 603-410-6444
FROM 9:00 AM TO 4:00 PM
PHONE APPOINTMENTS WILL HELD ON:
Monday, October 24th thru Wednesday October 26th
You must call on one of the days listed above to set up a phone appointment.